Anthea Bowen
I made my first pot at the age of six when I tagged along with my mum to her pottery evening classes. Mum was a talented potter and I have a few pieces of her work, which I love for their liveliness, their evocation of the 1960's and of course the fact that she made them!
I rekindled my affection with clay in 2003, fitting in pottery classes around my work as a photographic producer and family commitments. For the last few years I have been a regular attendee at Richard Phethean's classes. Richard is a slipware master and his generous teaching style has been key in my own development as a potter. I love getting stuck into new projects and I also really enjoy the social aspect and friendships that have developed from the shared learning and enjoyment of all things clay!
In 2016 I decided to free up more time to focus on and develop my pottery style and skills. As I became more immersed in the processes of making, I found that the things that excited me most about ceramics were the subtlety of form, how a line or glaze affects that form, the freedom of marks and the transmission of energy and soul that each potter expresses in the form of a pot.
Last year the dream to create my own pottery studio was realised, and I am very fortunate to now be working full time in my own space.
I am so inspired by the coastal scenery and beaches close to my studio:  A new idea is, more often than not, conceived at the beach …I love the soft lines and the positive and negative space created by the juxtaposition of sea-worn rounded boulders … the textures of the rock, the beautiful fine lines running through pebbles, how seaweed is left draped in flowing shapes by the receeding tide, rock pools and sea creatures, shiny water, mat rock, ripples in sand, dark against light, edges, textures … all these elements come together to form my next idea.
Making is a meditation for me and it is wonderfully easy to get lost in the process!  I mostly hand build at the moment, either throwing and altering forms or working with slabs of clay.  Each piece emerges slowly and ideas will evolve during the making process.
Returning to the beach to photograph the pot brings the creative process full circle, and has a beautiful feeling of completion about it !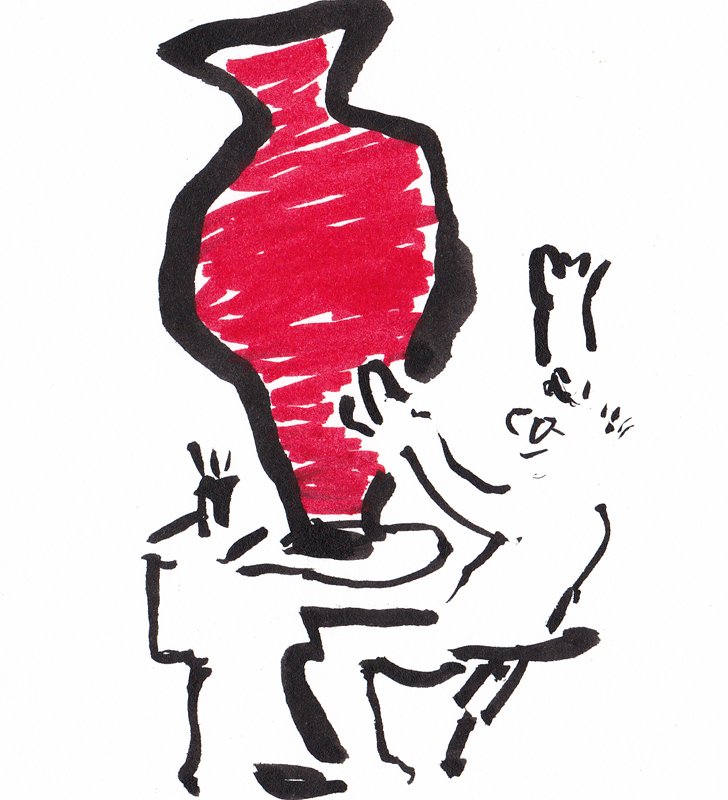 Drawing by kind permission of Clive Blackmore